Senlab M – Outdoor gas and energy metering (Atex pulse)– LoRaWAN
This Senlab™ M smart wireless device, featuring the LoRaWAN™ connectivity protocol, is suitable for gas metering and energies counting in explosive atmosphere.
PUL-LAB-13XS is compliant with ATEX certification.
Designed for outdoor use, Senlab™ M offers a ruggedized IP68 casing for outdoor use which able a reliable wireless connectivity for continuous monitoring in challenging environments.
Référence : PUL-LAB-13XS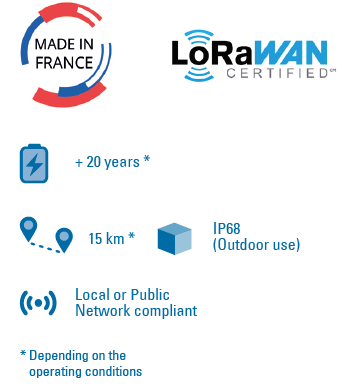 Typical applications:
Building Energy Management System Water
Gas, and electricity metering
Energy efficiency: Regulate energy costs
Control and monitor energy consumption
This Senlab offers best in class features as:
– Battery life time up to 20 years
– Rich Data Content thanks to datalogging (24 datas/radio transmission)
– Radio Performances
– Advanced set of functionalities