Senlab Gateway 8 channels – Private LoRaWAN network
Senlab gateway-8CH is designed to meet the needs of a Plug & Play LoRaWAN™ private network solution.
SL Gateway-8CH key features


SL Gateway-8CH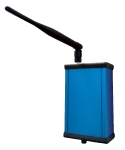 SL GATEWAY-8 CHANNELS is a LoRaWAN IoT station equipped with a dynamic data rate mamangement to maximize devices battery lifetime.
SL-GATEWAY-8CH is ideal to deploy a large volume of devices
Reference: GAT-LAB-6NN3
How can you connect your private network with Senlab 8 channels gateway?