Senlab A for indoor 4-20MA Sensors (current loop)
 This Senlab A is a smart LoRaWAN™ sensor with a 4-20mA input for a usage with a compatible pressure transmitter, accelerometer, weather sensor and many others from the 4-20mA family.
The ruggedized and IP68 casing alongside strong radio-communication performances mean this Senlab A is well suited for un-interrupted monitoring in harsh environment.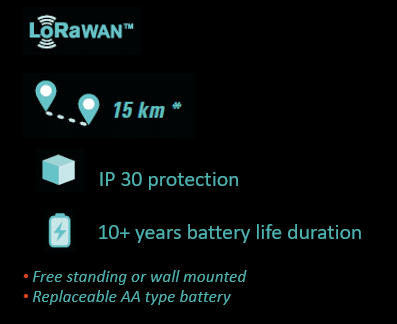 Reference: 4MA-LAB-41NS
Sensing Labs advanced sensors offer advanced functionalities such as:
-Datalogging (24 points / radio transmissions)
-"over the air" reconfiguration Additional specifications


Typical applications
Tank and silo level monitoring

4-20mA sensors optimization
Fairly common in the industry any  4-20mA sensor can be made 'smart' thanks to this Senlab. You can either retrofit wired sensors, or add as many points as you need, enhanced with wireless communications.
Technical specifications

Physical dimensions
53 x 85 x 25 mm
Weight
75 gr
Operating temperature
0°C to +55°C
RF sensitivity
-137dBm
RF power
+14dBm (25mW)
Radio band
868 MHz
EMC Compliance
ETSI EN 301 489-1,
ETSI EN 301 489-3, EN 61000-6-2
Radio Compliance
EN 300 220-1 V 2.4.1 (2012-05),
EN 300 220-2 V 2.4.1 (2012-05)
Magnetic field exposure
EN 62479
Safety
IEC 60950-1