Sensing Labs serving the Smart City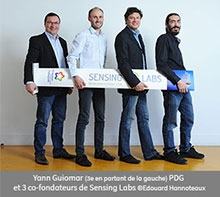 Founded in 2014 at the Cap Omega incubator, Sensing Labs surfs the burgeoning market of big data and the Internet of Things in the sectors of energy efficiency of buildings, intelligent measurement, industry 4.0, and intelligent farming (greenhouses and breedings). The start-up is specialized in the design of low-consumption and long-range LoRaWAN™ sensors.
They collect and process field data. Sensing Labs then processes this information to make it available to its customers via the Internet. The start-up has raised € 900 000 to finance its growth, especially internationally.
Hosted within the Cap Omega incubator of Montpellier Métropole's BIC (Business & Innovation Center), Sensing Labs was created in 2014 by four partners from Coronis, another Montpellier start-up that specializes in communicating sensors. "We use the experience gained to develop a strategy based on three areas," explains Yann Guiomar, CEO: "1) simplify access to data by working throughout the chain; 2) lower the cost of data acquisition by industrializing sensor production; 3) retrieve enriched information by putting intelligence into the sensors."
The Montpellier-based company has installed pilot sites in around a hundred customers. It is already present in more than ten European countries via seven distributors. After opening an office in Great Britain in 2016, it plans to set up in Germany this year. To finance this development, Sensing Labs completed a first round of funding amounting to € 400 000 at the end of 2016, supplemented by € 500 000 of bank loans. A second fundraising is planned in 2018. The company, which currently employs ten persons, aims for a turnover of € 10 million over three years, with a workforce of about 25 persons. In particular, it has initiated exchanges with Montpellier Méditerranée Métropole. "We are fortunate to be able to work with a community that is very involved in Smart-City projects," says Yann Guiomar.